CENTRAL MONITORING SYSTEM (CMS)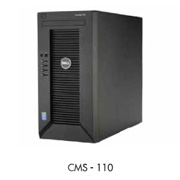 The CMS Server is the heart of the parking system. All equipment such as the Automation Lane Barrier, AutoPay Station, Ticket Dispenser, Ticket Exit Verifier, Season Pass System etc are connected to the CMS server via a local area network environment.
The CMS is usually located at the site back office and its main function is to monitor all individual equipment functionality live online. It also gathers, collates and compiles all information for all the equipment in the network providing a series of back office management reports.
FEATURES
Provides live monitoring of Autopay Station, Entry Gates, Exit Gates,Lane Barriers, Season Pass Systems, etc.
Multiple levels of user ID login/password for administrator and operation staff
Allows users to query & view transaction records on system
Setup of multiple tariff car park rates
Full suite of back office reports
TYPES OF REPORT
Daily Sales Report (By Shift)
Weekly Sales Summary Report
Monthly Sales Summary Report
Cancelled Tickets Report
Discounted Ticket Report
Free Tickets Report
Lost Ticket Usage Report
FOC Tickets Report
Outstanding Ticket Report
Special Ticket Summary Report
IOU Report
Payment Summary Report
Car Parking Collections Report
CNA Shift Summary Report
Daily Summary Report
Hourly Traffic Daily Report
Length of Stay Report
Card Status Report
Season Card Transactions Listing
Employer Listing
User Listing
User Activity Report
Top Up Code Report
Coin Box Job Report
Coin Hopper Job Report
Note Validator Job Report
Recycling Cassette Job Report
APM Shift Summary Report
APM Events Listing
Card User Listing (In Details)
Violation Report
Event Listing