Dual Cone Ceiling Speaker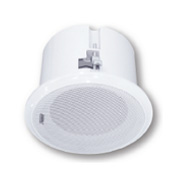 CS510 / CS610 : DUAL CONE CEILING SPEAKER W ABS ENCLOSURE
Available in 5" and 6" of driver size complete with matching transformer of three
tappings ; 1, 3 or 6W. Back enclosure are supplied as integral part of the speakers
made from quality ABS plastic. Installation is made easy with its screw mounting
mechanism.
Packing information
CS510 : 850 (W) x 385 (H) x 240 (D) mm
: 15 kg
: 20 uts per carton
CS610 : 685 (W) x 475 (H) x 340 (D) mm
: 19.6 kg
: 18 uts per carton
CS606 : DUAL CONE CEILING SPEAKER W METAL ENCLOSURE
Available in 6" dual cone speaker with back metal enclosure, grill and baffle and
multi tap matching transformer of 1, 3 and 6W 100V line. This model shall be
suitable for installations that demand fire resistant version of dome.
Packing information
CS606 : 420 (W) x 220 (H) x 345 (D) mm
: 6.5 kg
: 6 uts per carton
CS343 : WEATHERPROOF CEILING SPEAKER
CS343 is driven by a 4" dual cone speaker with built in matching transformer of dual
taps of 3 and 6W 100V line.
Made of quality ABS enclosure and aluminum grille, it is suitable for high humidity
areas, such as bathrooms and salty environment. Though compact in size, it delivers
satisfactory sound reproduction with high SPL level, good for listening pleasure as
well as paging clarity.
Packing information
CS343 : 550 (W) x 180 (H) x 465 (D) mm
: 9.5 kg
: 9 uts per carton
Technical Specifications
CS510
CS610
CS606
CS343
SPEAKER
Power rating
6W 100V line nominal (max 10W)
Diameter
5" (125 mm)
6" (150 mm)
4" (100 mm)
Cone type
Dual cone
Impedance (Ohm)
8
Freq response (+/- 5dB)
150 ~ 19 KHz
120 ~ 19 KHz
150 ~ 16 KHz
150 ~ 18 KHz
SPL @ 1W / m (+/- 3dB) 1 KHz
93 dB
92 dB
91 dB
90 dB
Magnet weight
3 oz
5.3 oz
2 oz
3 oz
TRANSFORMER
Tapping (100V line)
1 / 3 / 6W
1.5 / 3 / 6W
3 / 6W
Primary impedance (Ohm)
10 K / 3.3 K / 1.6 K
6.7 K / 3.3 K / 1.6 K
3.3K / 1.67 K
Secondary impedance (Ohm)
8
PHYSICAL
Grille / enclosure
White metal / ABS white
White metal
Aluminum / ABS
Cutting hole dim
140mm
175mm
165mm
120mm
Overall size (dia x height)
177 x 130 mm
230 x 102 mm
200 x 100 mm
140 x 130 mm
Weight
715g
785 g
950 g
900 g
Colour
White