MicroID MX2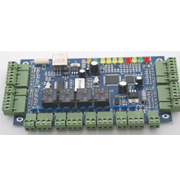 MX2 is an advanced integrated access control system that offers a high level of security, centralized
administration and flexible control over who has access to your building and when. MX2 can control
hundreds of doors across multiple sites for up to 20,000 users. Besides that, MX2 also provides basic
time attendance, car park system, patrol management and meal allowance system.
Training requirements for the system users are minimal; a new administrator can be fully competent in
less than two hours of training. Access permission can be set individually, allowing and denying access
to doors within specific time frames. Users can be added or barred from the system within seconds.
Each access event is recorded in the event log; these can be viewed 'live' from the events screen or
from a generated report.
MX2 is designed to provide users and installers with a system that is easy to use, install and maintain.The controller's stylish design is suitable for residential and commercial buildings.

4, MPEG-4, JPEG

User Friendly Software
Window based user interface.

E-Map display.

Click on door icon for operation (easy to use).
Comprehensive Reporting Functions
Generates various types of report with criteria selection.
Report can be filtered by time, department or user and can
be exported to Excel format.
Built-in Time Attendance System
Analyze data to automatically produce detailed time
attendance report.
Define holiday period.
Support single shift, multiple shifts and overnight shift.
Built-in Simple Car Park System
Access Permission can be set individually; users can be
added or barred from the system within seconds.
Each access event is recorded in the event log.
Built-in Simple Patrol System
Flexible setting of patrol guard, check point, route and
tasks.
Detailed report and statistic report is provided.
Built-in Simple Meal Allowance System
Dining rule can be set.
Meal time period and charges for breakfast, lunch, dinner or
supper can be set.
Report shows the total number of meals taken by a person.
Sony SNC-CH210
Model
MX2-D1
MX2-D2
MX2-D4
Communication
TCP/IP 10M/100M
TCP/IP 10M/100M
TCP/IP 10M/100M
Description
Control 1 door – in and out by sw iping
card, or in by sw iping card and out
door by button
Control 2 doors, in and out by sw iping
card, or in by sw iping card and out
door by button
Control 4 doors, in by sw iping card,
and out door by button
Power Supply
                                           12VDC 4-7A
Input Format
                                          Wiegand 26 Only
Quantity Readers
2 pcs
4 pcs
4 pcs
Quantity Relay Output
1 pc
2 pcs
4 pcs
Door Opening Time
1-600 seconds (adjustable)
Maximum Controller
255
Work Temperature
– 10 C~70 C
Operation Humidity
10-90%
Capacity
20,000 Users; 100,000 event buffers
Operation Mode
Card, PIN, Card +PIN
Inter-locking
No
Yes
Yes
Max. Distance to PC
TCP/IP: <100m
Max. Distance to Reader
10-30 meters (subject to site condition and cable )
SpecialDoorAccess Features

Force dooropen alarm
Fire detector and and activate alarmfunction
First card unlocking
Multi-cardAccess
Anti-passback

Sales Code
XL-MX02-L01-SW1
XL-MX02-L02-SW1
XL-MX02-L04-SW1