Smart Store Gas Detector Alarm Sensor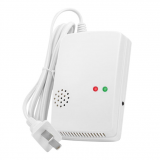 Features : 
High quality gas detecting alarm sensor, sensitive in detecting coal gas, natural gas, liquefied petroleum gas leakage.
with high stability adopting advanced semiconductor sensor
Low power consumption sensor, energy-saving.
Can be used as a stand-alone home alarm device or front detector for an alarm system
to enhance home kitchen security.
Support 433mhz frequency.
Material: Plastic Shell
Input voltage:DC12V AC220V
Emission Distance: 100m (Open Area)
Alarm sound:≥ 85dB & red light indicator warning
Easy Installation (Wall-mounted)
Suitable for early warning of combustion gas explosion in house, villa, hotel, shop, office & etc.
Contact Us!Buy From Our Lazada Store
NOTICE
1.This sensor CANNOT be used independently. It needs to work with the 433MHz alarm host.
For Example: