Smart Wireless Outdoor Alarm Siren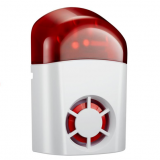 Features :
Wireless outdoor siren with 120dB sound and flash.
Working Frequency: 315mhz
High accuracy and reliability.
It can be widely used in shop, warehouse, office, home residence, etc.
Input voltage: AC 100~240V 50/60Mhz
System armed: LED 2 and 3 light on
System disarmed: all LED lights off
Home alarm: LED light 2 and light 3 flash
NOTICE :
This alarm siren CANNOT be used independently. It needs to work with the 315MHz alarm host.