Supa 20V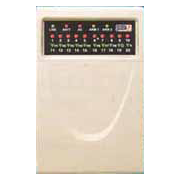 Model 20V
The advanced technology alarm system gives you more flexibility and
is user friendly. 10V offers the ultimate advanced features with 8
home automation and voice feedback. The home automation output
can be programmed to activate upon alarm being triggered :-
• 10+2 zones
• Individual selection of latch or momentary for Home Automation
• Voice-assisted programming
• Personal reporting format in voice
Model 10V

Advanced Technology
With advanced technology, our panel offers a unique feature in the form of pre-recorded voice either in English or Mandarin during call in/out reporting and status reporting. You can make your choice.