Wireless Doorbell Emergency Button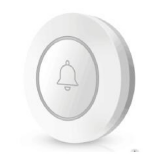 Features :
Can be used with the H1 alarm system. simply press the button, then alarm system will be ring doorbell.
Freguency: 433Mhz
Input voltage:3V battery(CR2032)
Can be used as door bell or emergency button
Easy installation
NOTICE
1.This sensor CANNOT be used independently. It needs to work with the 433MHz alarm host.
For Example: