Wireless Water Leakage Detector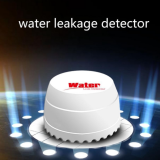 Features :
MCU intelligent detection, rust-proof metal probe design
High accuracy and sensitivity
Low power consumption, long-term stability and reliability
When detecting leak water ,immediately send an alarm signal.
Working frequency: 433MHz
Power supply: CR123A Lithlum battery (1300mAH)
Transmitting distance:≤80m (in open area)
Color: white
Package Contents:1 x Water Leakage Detector(Battery included)
Contact Us!Buy From Our Lazada Store
NOTICE
1.This sensorCANNOT be used independently. It needs to work with the 433MHz alarm host .
2. The distance between the two parts of the door sensor should not exceed 1.5cm.
For Example: