PARKING GUIDANCE SYSTEM (PGS)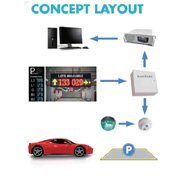 Parking is the way a properly first greets its guests, setting a first impression and expectations for the remainder of the visit. Maxpark PGS removes stress from the parking experience, optimizing the path from entry to space. The parking process is remarkably faster and easier, delighting guests and enhancing the property site's reputation. By eliminating drive time previously wasted in search of parking, Maxpark PGS System also drastically reduces tailpipe emissions, shrinking the property's carbon footprint. Better utilization efficiency from Maxpark PGS System can even reduce the number of parking spaces required, leading to significant savings in new construction costs.
EXISTING PROBLEM
Overall car park efficiency is diminished, deterring customers from return visits. This is a common problem for complex car parks and sites with high turnover.
SOLUTION
Maxpark PGS System uses an Ultrasonic sensor with integrated signal lights that communicates to drivers where open spaces are located.
BENEFITS
10% improvement in car park utilization
44% reduction in time to park
Improved customer service justifies installation of paid parking or increasing parking rates
ENTRANCE & INDOOR SIGNAGE DIRECTS CAR TO AVAILABLE SPACE
Electronic display boards indicate the direction and quantity of available parking spaces

Signage is updated in real-time

Multiple signage options for varying decision points
Management software visualizes the entire parking lot by large LCD displays, performs statistical evaluations and directly controls the system.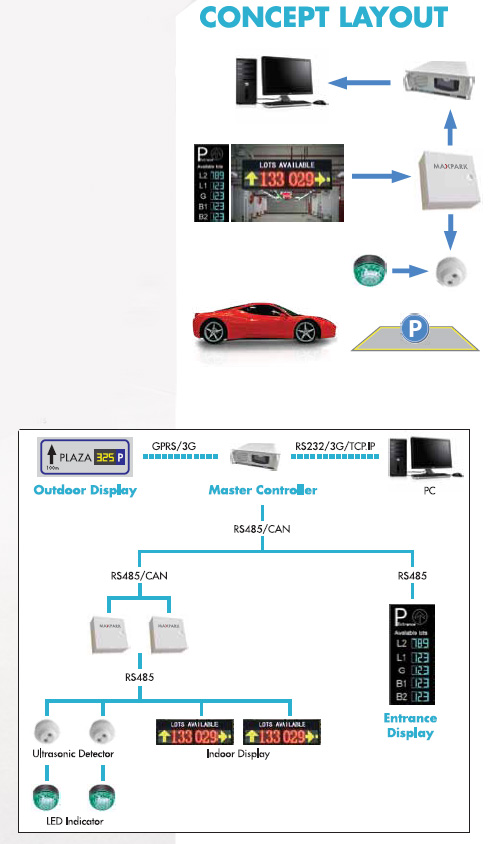 ULTRASONIC DETECTOR 
| | |
| --- | --- |
| Voltage Rating | DC18 – 24V |
| Power Consumption | 0.5W |
| Detectable Range | 0.3m – 4.5m |
| Detectable Angle | ±15° |
| Detectable Distance Setting | DIP Switch (OFFLINE mode) or Automatic (ONLINE mode) |
| Working Temperature | -10 – +55°C |
| Communication | RS485 |
| Dimensions (mm) | 105 (Diameter) x 60 (h) |
| Protection Class | IP55 |
LED INDICATOR 
Voltage Rating
DC 18 – 24V
Power Consumption
<0.36W
Display Color
Red & Green, Red & Blue
Single LED Brightness
Red Lamp : 60cd/m2- 80cd/m2
Green Lamp : 125cd/m2- 168cd/m2
Working Temperature
-10°C – 60°C
Dimensions (mm)
78 (Diameter) x 50.6 (h)
ZONAL CONTROLLER
| | |
| --- | --- |
| Voltage Rating | AC220V±10%, 50Hz ± 1 Hz |
| Output | DC24V/3A |
| Power Consumption | <10W |
| Display Mode | LCD, LED Lamp |
| Communication | RS485 |
| Baud Rate | 9600bps |
| Loading Quantity | 32 – 128 sensors |
| Communication Distance | Maximum 1200m |
| Working Temperature | 0 – 60°C |
| Dimensions (mm) | 130 (d) x 320 (w) x 275 (h) |
| Weight | 6.0kg |
MASTER CONTROLLER SERVER
| | |
| --- | --- |
| Voltage Ratine | AC220V±10% |
| Power Consumption | <5W |
| Communication | Upward RS232, Downward RS485 |
| Baud Rate | 9600bps |
| Dimensions (mm) | 260 (d) x 430 (w) x 100 (h) |
| Weight | 3.0kg |