SMART PASS SYSTEM (SPS)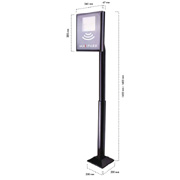 The Season Pass System (SPS) functions as an entry control system for office tenants, gated housing area residents, condominium residents and visitors.
The SPS is usually located at the entry and exit areas with a Standing Pole Reader unit. All season pass holders will be issued with a Tag device to be mounted on the car windscreen or as a standalone unit. When approaching the entry area and exit area, the SPS reader will detect the Tag device and trigger the lane barrier to open accordingly.
FEATURES
High-Tech advantages of normal sleep mode, infrared wake, CPU automatic identification via wireless communications
High Speed Reader, reader distance with good directionality, reading distance can be adjusted (1-20 meters adjustable), Reader angle adjustable.
Penetrate* vehicle protection film (such as proof membrane), users do not need to roll down the window while entering and exiting the gate. Especially during rain, registered users can simply drive through
the entry and exit point
Unique encryption and anti-jamming technology to prevent interference between adjacent lanes
SPECIFICATIONS
| | |
| --- | --- |
| Wireless Carrier Frequency | 433.92MHz |
| Transmission Frequency | 38 kHz |
| Reader Angle Range | 60° |
| Effective Distance | 1 – 20 meters |
| Single DC Power Supply, Operating Current | 100mA |
| Working Temperature | -10°C – 60°C |
| Operating Humidity |  5% – 95% |