Wireless Door / Window Magnet Sensor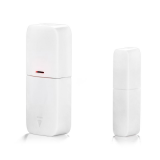 Features :
To detect doors, windows, drawers, cabinets, etc. are opened or moved without notice.
Alarm Signal will be triggered and send signalto the alarm host
Small size, easy to install
Working with alarm host,can not be used alone.(work with our smart siren alarmsystem)
Wireless Transmitting Frequency: 433MHz
Power Adapter: Battery(Included)
Form Color: White (Door Sensor)
Low-battery detection
NOTICE
1.This sensorCANNOT be used independently. It needs to work with the 433MHz alarm host .
2. The distance between the two parts of the door sensor should not exceed 1.5cm.
For Example: